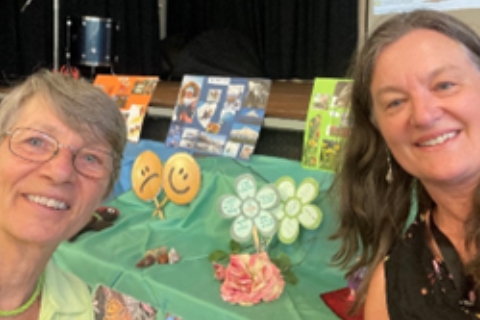 MacKillop Seasons Expert Trainer Fiona Hart ran a Stormbirds training in Eugowra in the central west of NSW in February 2023. This small community in NSW were affected by a flash flood in November the previous year. The force of the water was so strong that it swept away homes and vehicles. Businesses, the local Catholic school, the town's preschool and many homes were completely destroyed by the flood.  
Sadly, two people lost their lives and a third of the township's population were airlifted off their roofs. Yet despite these enormous changes and losses and the grief experienced by the people of this town, the community is pulling together and supporting one another to move through the experience.  
The Stormbirds training provided an opportunity for the staff from the Catholic school, pre-school and Centacare to come together and discuss the impact of the floods on their community, themselves and the children in their care.
"We discussed the importance of self-care and the best ways that they could support the children and their families as they returned to school and preschool."
Fiona Hart, Expert Trainer
"Through exploring the Stormbirds program together, we shared some fun and laughter, shed some tears, listened to stories, ate amazing food and drinks provided by local businesses and listened to a beautiful, heartfelt song, written and performed by Nerida, one of the amazing teachers at St Joseph's," said Fiona.